Your brand is the foundation & life blood of your marketing.
Our brand-building process elevates brands, both in the minds of customers and beyond competitors.
Our unique Branding Process

Great brands are so much more than a logo. Successful brands weren't built with just a graphic symbol or typed word – they were created and evolved with:

A defined brand strategy
A clear point of difference
A unique story
And a clever, consistent activation across all customer touchpoints.
Whether for new or existing brands, BEAM's thorough, systematic and proven branding system builds effective and successful brands.

Because they're built strategically, the brands we create connect with audiences in meaningful ways, boosting brand awareness and customer loyalty.
5 Good Reasons to Consider Rebranding
1. You need to compete at a higher level in your market and need to consider both positioning and rebranding strategies.

2. Your brand no longer reflects or represents who your brand or company is today.

3. You have a legal reason compelling you to change your brand.

4. You need to simplify and focus your message to your audience(s).

5. Your business or product has changed markets, and therefore audiences.
Some of our brand creations...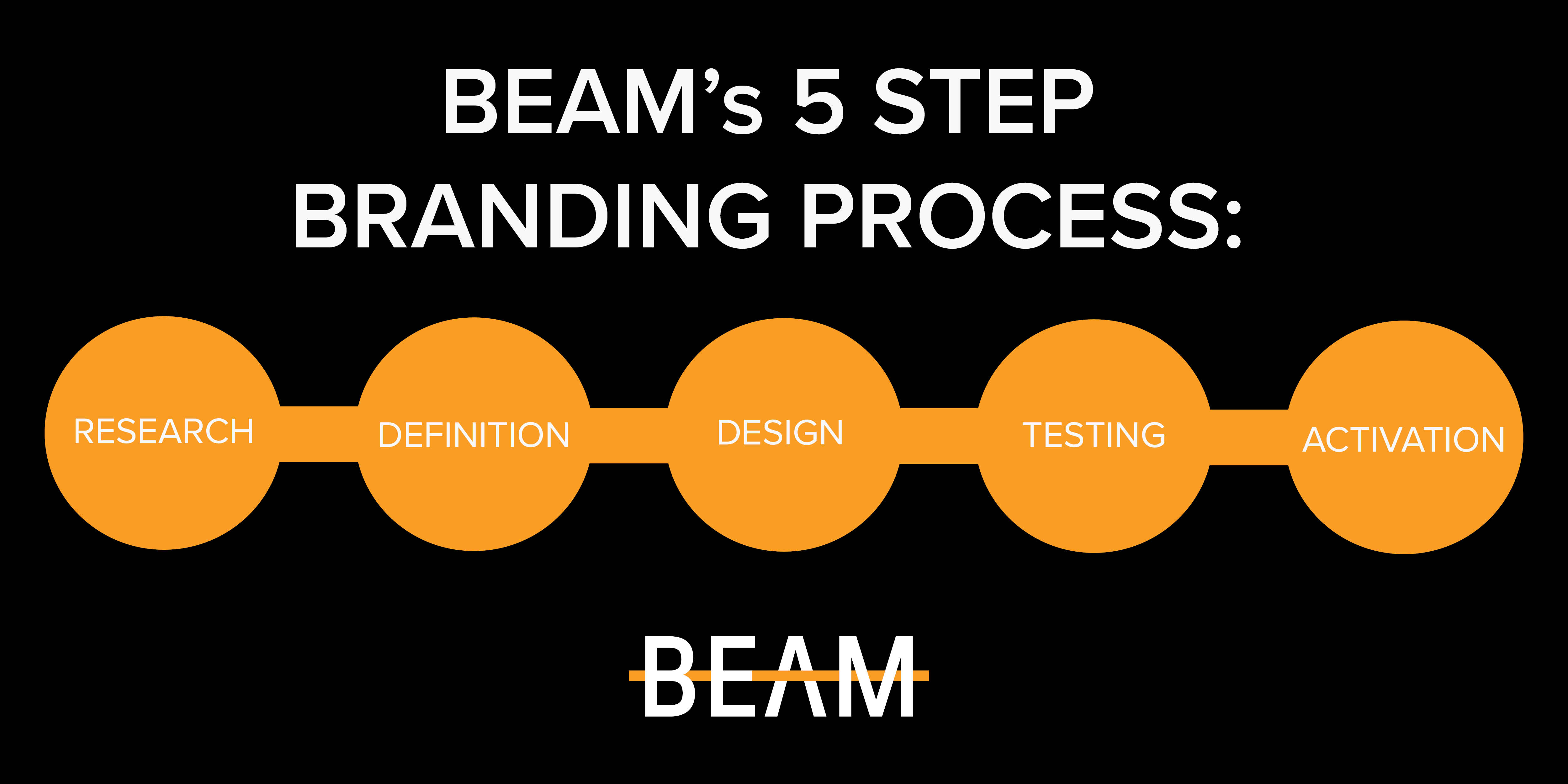 See our 5 step process below, on how we capture the essence of your brand and bring it to life!
We work with clients to determine their business's needs and goals, their brand's market positioning and to define the creative vision for the brand.
Branding sessions determine the benchmark for what the new brand or rebrand needs to achieve and helps to pave a plan for brand development and ongoing marketing.
Once determined, market research is conducted to build a brand strategy that will ensure uniqueness, impact and business goals. Research can include a review of competitors, marketing positioning tactics and customer profiling.
Step 2. Understand the Brand & its Purpose
Strong brands have distinct personalities that are instantly recognizable in every brand experience. To determine the look and feel for the new brand, we work with our clients to decide key characteristics of the new or revised branding ie. A Personality Check.
Brand Purpose or Mission is a key driver of brand strategy. What is the reason the brand exists and what does it need to achieve? Is it cause-related, a fashionable consumer brand, revolutionary technology that will change lives, the market leader amongst its competitors?
Brand design is important will serve as the foundation for any brand for years to come. A brand should last at least 10 years or more. So, its important to capture and represent a brand that is going to appeal to its market and capture the attention it needs to market itself.
BEAM's design concepts explore several angles and interpretations of the agreed brand characteristics and are presented in stages. We approach brand design methodically based on the research, market insights and audience profiling.
 BEAM BRANDING STEPS INCLUDE:
Directional concepts (ideas)
Refinement of concepts
Colour considerations & suitable palettes
Testing
Finishing Touches – with and without tag lines, symbols etc
Final files
Style Guide development
For absolute confidence, testing new brands for their acceptance provides a new dimension in marketing.
Brand testing can include market research including customers and key stakeholders for their preference and input – often providing buy-in along the way.
Testing is not always necessary, but it can provide a great level of comfort and brand confidence - particularly for re-branding of established brands.
This is where we bring your brand to life! In every interaction with every audience, your brand experience should be both relevant and differentiated. By defining how your brand behaves 'on brand' across touchpoints, we ensure that its presence in the marketplace is cohesive and memorable, building brand equity that's essential for success and growth.
Brand activation services include:
Website – design and user experience
Marketing collateral
Packaging
Content creation
Social media
Digital Marketing
Content Marketing
And lots more!
Would you like a no-obligation brand consultation? Book an appointment today